So a couple months ago I had some spare time to visit a store I have been dying to visit. Nashville got it's first The Container Store back before Christmas and I couldn't wait to go. But, finding the time with a baby and a then 5 year old made it tough. Well, after going to dinner with some girlfriends, I headed on over to the store. I just wanted to walk around and take it all in. I wasn't armed with a list this time like I had for my IKEA trip.
Im in the middle of re-doing my office into an office/craft room/sewing room. I found these adorable button hooks and snatched them up.
I got 2 packages for a total of 4 in silver to go in the craft room. It will match the silver storage system I purchased from my first IKEA trip. These buttons come 2 per pack at $6.99 per pack.
After hosting a show for my friend Jamie Defoor who is an independent consultant for Stella and Dot, she has her jewelry in a fantastic organizer. You could see everything and could grab and go. I used to be a Premier Designs consultant and knew I wanted something like that. She told me she got it from The Container Store. So I grabbed one!
It's doubled sided, clear and easy to store. This canvas jewelry organizer sells for $24.99 When I go back though I am getting this one:
I love how you can store the necklaces and bigger items. SO much neater!!! This one sells for only $19.99. I might need TWO!
I also wanted more real estate in my pantry and found these lovelies, Expand a Shelf!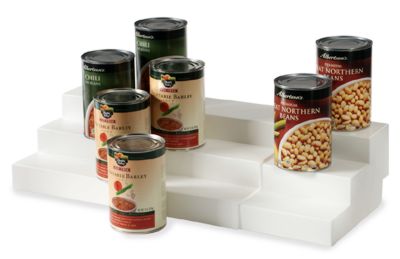 They come in different sizes and range in price from $9.99-$14.99
I fell in LOVE with this next item. I have been storing my son's travel DVD's in a shoe box in the van. I found this alternative that is much more sturdy!
It holds 25 DVD's and is PERFECT. Got this for $12.99.  We get to use it on our first trip this week to the beach
So I ended up going there with no idea what to get and left spending WAY too much money. So tell me, have you been to The Container Store yet?
If you enjoyed this then don't miss out on any further posts. Have me delivered right to your inbox by clicking the link:
Subscribe to Debbie Does Creations
Related posts: