It's August and what does that mean? Football season is about to start!!!! Woo hoo! How many of you LOVE to tailgate? Well I'm here to share with you the Top 10 Tailgate Essentials.
1. Canopy
You can actually get these at your local sporting goods store or online. We bought ours from Academy Sports. Here is one from Academy Sports with a team logo: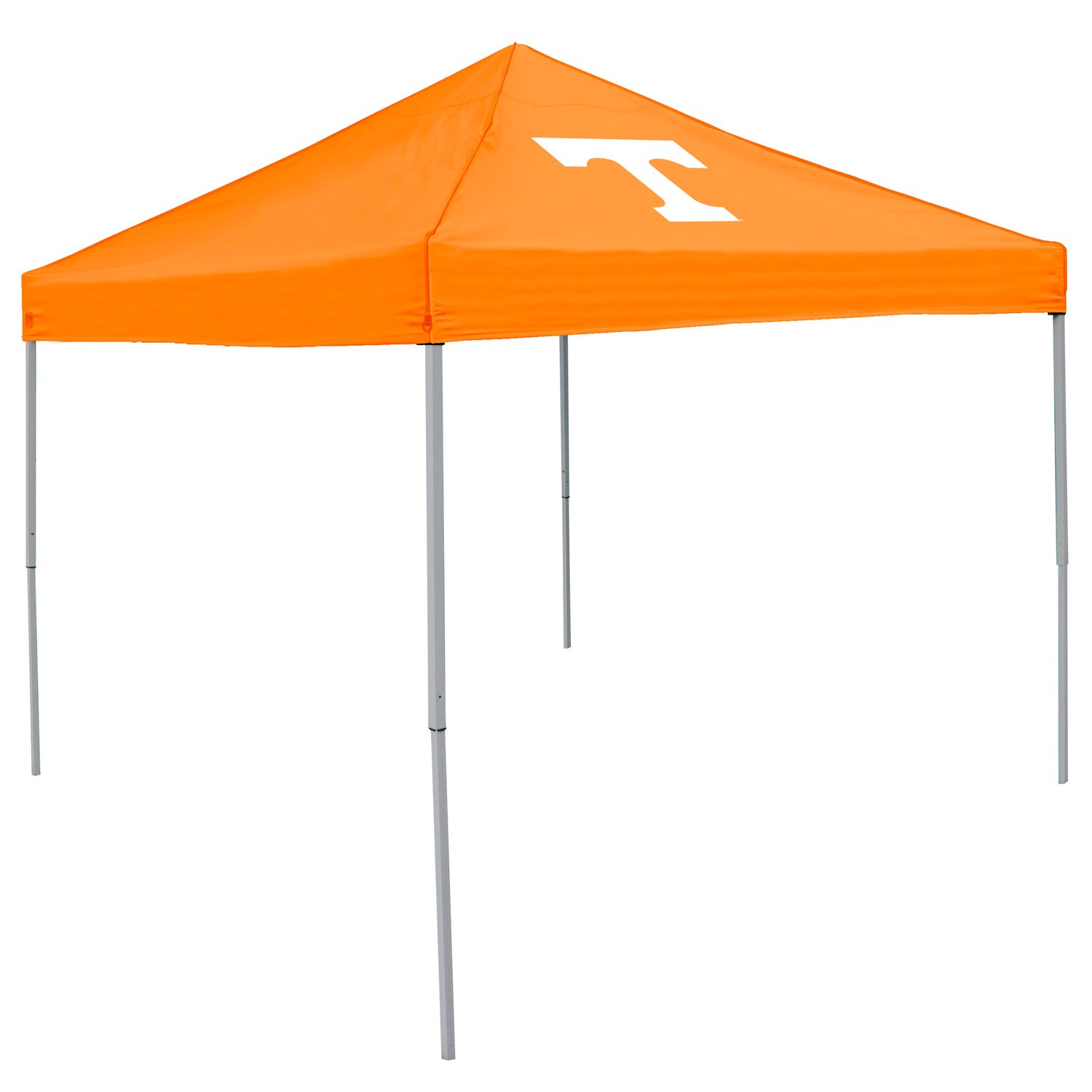 2. Portable Grill
I love Coleman products and they have an amazing line of portable grills. Check out this awesome tabletop grill:
You can even purchase a portable stand to pair with it or Coleman has a portable Pack Away kitchen. This is brilliant!
3. Portable Margaritaville Machine
Who doesn't love a fabulous drink when they are tailgating? Well, I'm not a beer person and I love me a good frozen drink. I have a Margaritaville Frozen Concoction Maker for my home but they now have a traveling maker:
The Explorer is an AMAZING addition to your tailgating needs.
4. Large Cooler
You need a very large cooler to house all your food and frozen drink mixes. You can get these from any major chain such as Wal-Mart, Target or your local sporting goods store. Once again, Coleman makes a wonderful selection of coolers. My favorite would be their Party Stacker Coolers:
These are perfect space savers and these hold 48 cans!
5. Folding Tables and Chairs
I know you think I'm getting paid by Coleman to say this but I am not. I truly heart their products! They have the perfect Pack Away Picnic Table for Four:
In addition, for chairs I highly recommend any style of the camping folding chairs like this:
6. Team Decor
Team decor you can make yourself go from drab to fab! This week I am going to show you how to make a customized team wreath, a team banner and a team painting on canvas. These will surely add to your tailgating party and make you stand out in the crowd!!! Here is a sneek peek of the painting I made for a fellow Penn State fan as a gift:
7. Generator for the avid tailgater
I have never been to those tailgating parties that host dozens of people but there are those a crazies, awesome tailgaters that do it from sun up to sun down and need a generator to support their outfit. I would LOVE this kind of party. Anyone want to invite to one? I don't know a thing about a generator but if you go to your local hardware store such as Home Depot, Ace or Lowe's I am sure they can help you pick the right one.
8. Crockpots, Pyrex Dishes and Paperware
You need lots of food and lots of dishes. Crockpots are great because while you are at the game you can have a pot of chili brewing. Pyrex dishes are great too because they have containers that keep the food warm for a long period of time. Paperware: If you tailgate often I recommend the acrylic tableware that you can find at Target. These are environmentally friendly instead of all that paper products. Just carry a large trash bag to store the dirty tableware in to take back home and wash. With these, you could even customize for your team.
9. Food (Breakfast and Grilling Foods)
Food is one of the most important parts. So important in fact that the week of August 12th I will be sharing with you all week long your breakfast and morning drink recipes for the morning tailgaters. The week of August 19th I will be sharing with you all week long the afternoon foods and yummy drinks.
10. Games
Last but certainly not least are the games that you will be playing at the tailgating party. The last week of August I will be focusing on these games and how you can make them and customize them for your team. Can I get a woo hoo??? GameDayGames is the perfect online store for your tailgating needs. Look at some of their goodies:
Last but not least, Beer Pong
Don't miss out on this month long series. Have me delivered right to your inbox by clicking on the link below:
Subscribe to Debbie Does Creations
Related posts: